The Best Calamari to Eat in Bozcaada? Vahit'in Yeri, Bozcaada, Canakkale
There are 2 types of calamari in life. One of them sounds "Ghik, Ghik ", the other one makes a tough sound when you chew. That is "Thik, thik". We are the ones who believe in second one is the best calamari. Because of this belief, 1. We had a chance to visit Bozcaada before its season. 2. We had the calamari which has "thik thik" sound at Vahit's Place. (If we had had a "Ghik Ghik" calamari experience we would have gone to a perfect Seppuku.)
The calamari we had at Kavala -prepared by greek who were the previous owners of Bozcaada- was like this also. It was whole with its legs and arms. Precious Achilles used to have fried calamari like this, too. Agamemnon the same. So, this is real calamari friend! Nowadays, young people have rings which look like calamari with lots of sauce, and they eat without understanding what they are eating. Being a teenager is tough and so difficult our lovely friends! You can't do anything.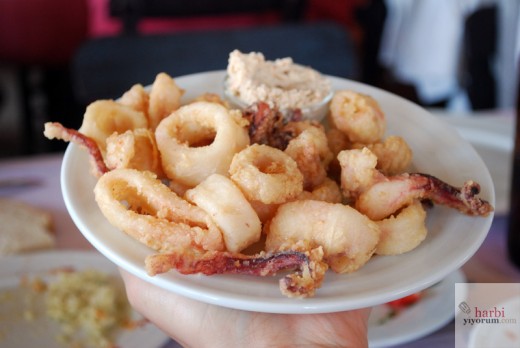 After we got the reality of true taste of calamari comes from the calamari itself, there is no need to say that true taste of Tarator (the sauce of fried calamari), which is the must have dipping sauce of calamari -before you gulp it- comes from garlic.
Just as Rakı and melon, wine and cheese, tea and simit (Bagels), Hacivat and Karagöz, Leyla and Mecnun, Hansel and Gratel are inseparable figures, Tarator and Calamari are the same. But the quality of Tarator can change the all taste of calamari.
Lets switch off to Vahit.
We met Vahit at the tour that La Piccola Martha organized. He located his place such an inspiring panaorma that if you were an author you would stay and write there all day by having fried patotoes, calamari and beer. If you were an artist you would paint all day by having calamari, potatoes and beer. Of course, calamari is not the only thing Vahit serves.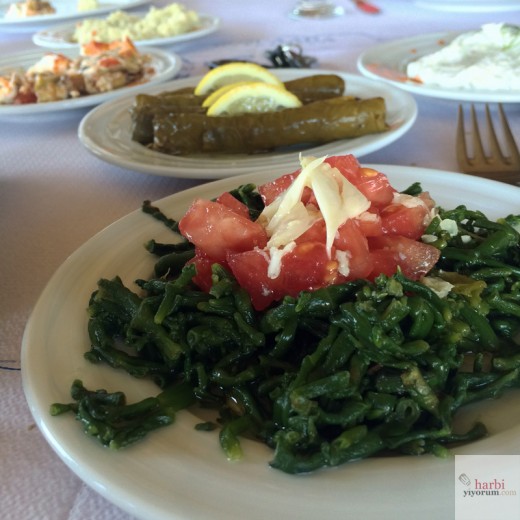 You can also have Salicornia (Deniz Börülcesi) ultra seasoned with view is quite common in the island and we are fond of it a lot -because it is with garlic-  olive oiled vegetables and other mezzes with/without yoghurt sauces.
Vahit's Place owned by Vahit is the very sophisticated version of a beach buffet you have ever seen. You can say: Buffet De La Creme! If Albert Bierstadt the father of Hudson River School were alive, he would absolutely make a painting of this place.
You are also lucky. Vahit's Place HR departmant accepts the applications of people who have "I am going to live in the island" dreams. If you are accepted via our link, let us know and send an email!
Yes. Vahit's Place is a place where you can run away for lunch, meet your sweetheart, enjoy with friends. If you go and see someone at the corner with a hat, it may be one of us or the one who we want to be there instead of him.
Say hi!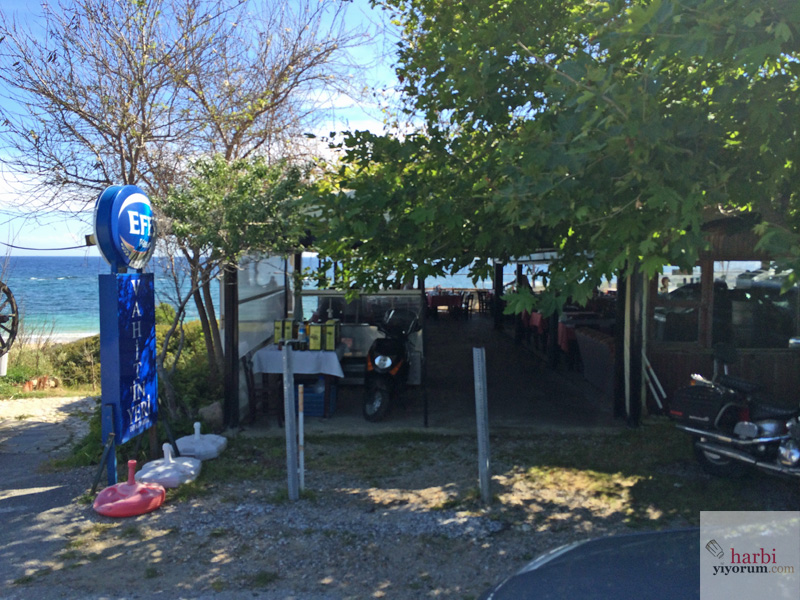 Vahit'in Yeri (Vahit's Place)
Ayazama Plajı, Bozcaada, Çanakkale
Tel: 0286 6970130

Click here to see the adress on the map!