The Best Meatball to Eat in Balat: Kofteci Arnavut, Mavi Kose Lokantasi, Fatih, Istanbul
There are some places which you go there to eat meatball but you eat its history at the same time. Köfteci Arnavut  is one of those places. It's name was Mavi Köşe Lokantası when it was founded.
It is absolutely a local restaurant. There is lifetime story of Necdet and Ali İştay brothers. It is not easy to say; founded in 1937. Once we came across Uncle Ali. God bless him, he is so funny…
Actually, in Balat where ever you go they say it is historical but this is true! Köfteci Arnavut is one of the most sophisticated historical local restaurant here. Not only with little little, juicy, square, homemade kind of meatballs but also with its extended menu, Köfteci Arnavut is a century years old, small restaurant.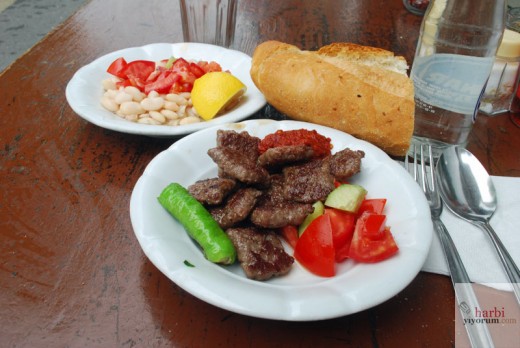 What else do they serve except for meatballs? For example; there is İşkembe Çorbası. (Tripe Soup) There is Arnavut Ciğeri (Liver Albanian Style) for which fans wait in the line twice a week. Of course, there is piyaz. There is Triliçe (Albanian Dessert) which is a Balkan dessert and it became famous especially in spring of 2014. (This dessert became so famous, we are sure, you are going to try but we strongly advise you to have it here)
They serve Triliçe 6 days a week. They dont serve it on Saturdays. But if you order beforehand, they can get it prepared for you on Saturdays. Fortunately they make piyaz (Bean Salad) everyday. But they serve it till 16:00. If you go there in the evening, you can only find windowmill, historical wooden tables and chairs. And of course if you come across Uncle Ali, he likes chatting so much. He may be your bonus.
It is better not to go in the evening by the way.
Once upon a time there was a meatball restaurant of two stubborn brothers, at the bottom of an old building on Mürselpaşa Street at Balat. It's name was Mavi Köşe Restaurant. From time to time, people around there used to hear their discussions. At last, three apples fell from the sky and only nice memories reached us.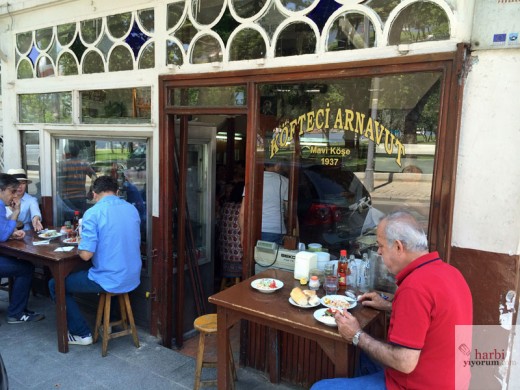 Köfteci Arnavut – Mavi Köşe Lokantası
Mürselpaşa Caddesi, No: 139, Balat – İstanbul
Tel:  0212 531 6652

Adresi haritada görüntülemek için tıklayın!