Where to Eat Ciğer Yahnisi at Bostancı, Şah Ömer'in Yeri Kadıköy, İstanbul
All we have "Private" moments during our lives. And there are "More Private" moments. Before we were born, there used to be a custom in this area such as celebrating the private moments by making Yahni (Ragout),dear friends. If the sauce of tomatoes is ok, it doesn't matter even if you put the lowest quality meat in it. It is important to get the exact thickening. That is where we eat perfect tuned sauced kind of Ciğer Yahnisi – Liver Ragout for years at Şah Ömer's Place.
While we are having it, Zaz in our soul is singing "Je Veux". The name of the food "Yahni" comes from Farsi means "Well-Done" and it is made for celebrating meals. A careful reader has already got that we still resume this old custom at Şah Ömer's Place, right?
Dear friends, yahni is the Menemen of meat meals. It is traditional. When you put onion, garlic, pepper and tomatoes sauce together, it doesn't matter what kind of meat you add in it, it becomes well. Maybe, because of the cartoons we watched when we were children, we think there is only Hasenpfeffer (Rabbit stew!) But it is not. You can make yahni even with horse meat.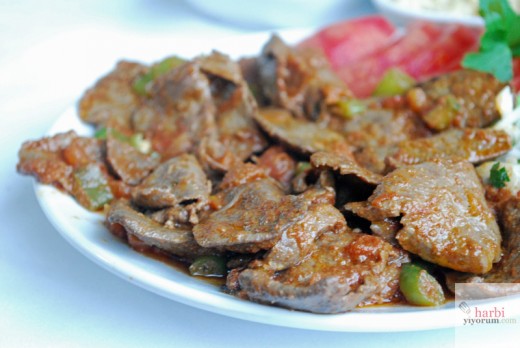 Now that we cleared yahni subject together, let us talk about Brother Adem at Şah Ömer's Place. Brother Adem is the north Pole of waiters. Most people go there for Bro Adem. If you run a restaurant or something like that, we advice you to send your waiters to Adem for internship. A clever person can learn all of this profession in detail by watching Adem bro.
He is like an orchestra chief. He knows customers. He even knows how much you can eat. Morever when you say "I want to eat this too" He says "Come on, for the sake of god, don't you find anything else to eat?". He knows all menu and dishes very well. You can easily understand his job love from his eyes. He is a very special man! After this description people who are going to that place first time, can find him so easily I guess.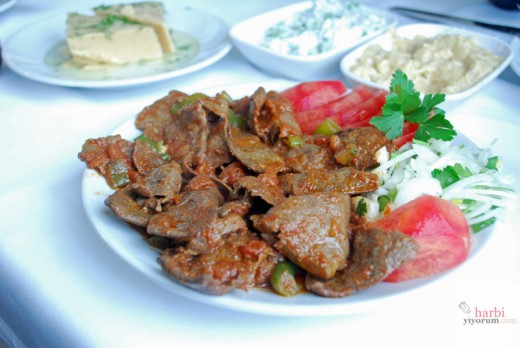 Let us Tell you the place of Şah Ömer's Place. It is a very special place. Except for the places  for families, there are "Big Bros" who can have only plums next to Rakı az Mezze. But they are quite innocent. Sometimes you understand that place has its own culture at first sight, this place is like that. There are memories of romantics. Ask Adem to see poems of old goers. Turkish Classical Music is dominant in the place. Starters are quite successful. But Yahni is the most beautiful of all!
We make the final with Yahni. It would be better to say we add yahni to our chat. Liver is not just a purtenance. It has a bigger mission. Some people think human gives shape to food but food gives shape to human too.
I wish there would be places which Serve just Yahni.
Say hi to Adem abi if you go there.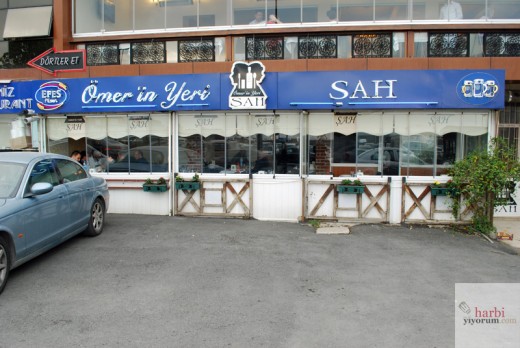 Şah Ömer'in Yeri
Kasaplar Çarşısı. No:8 Bostancı, Kadıköy – İstanbul
Tel: 0216 4894709

Click here to see the adress on the map!