Where to Eat Menemen at Kadıköy? Meşhur Menemenci, Osmanağa, Kadıköy, İstanbul
In Istanbul, we have seen so many restaurants so far whose names start with "famous". In such circumtances, first we can't help asking "Well, now that you have been so famous why we have never heard about you?" However some of them honestly deserve to be such famous. For instance; Cemal Polat, who claims Menemen is his only profession since 2005, is one of them.
"Are you a relative of Polat Alemdar?*" By asking this, we start chatting. "Of course no bro! What the hell, I am just making Menemen" he replies. Of course kidding. We didn't talk this. But if it had been, it would have been nice, right?
*Polat Alemdar: is the name of a famous and longlasting (the longest of all times) tv series character in Turkey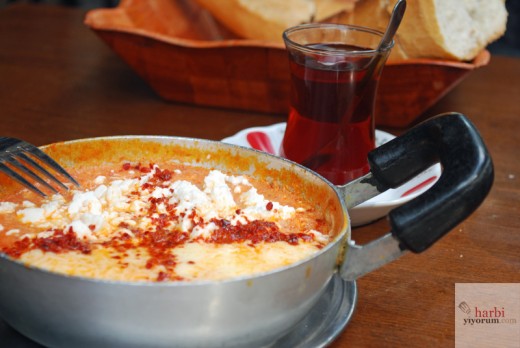 Anyway, Cemal bro is making our favourite kind of Menemen. (If we dont see the tomatoes in the ommelette, this is our style. He grates the tomatoes and make them puree.)
You can find a huge variety of Menemen here. With cheese, sucuk, sousages, dried meat, chicken, olives, minced meat, potatoes, bikini etc. and the list goes on like this. The portions which are prepared in special pans, invite you to the feast in the shape of a protein lake. If you dont like Menemen you can also order scrambled eggs. If you dont like eggs either, you can order fried potatoes.
We usually order ours with white and yellow cheese. This time we kept the routine and had it by dipping the bread into it. We had it the same way, in our previous experience at Lades Menemen.
The pans there were warped because of overexert, so it was difficult to Eat in them, in this place they are still new but they are also going to be warped.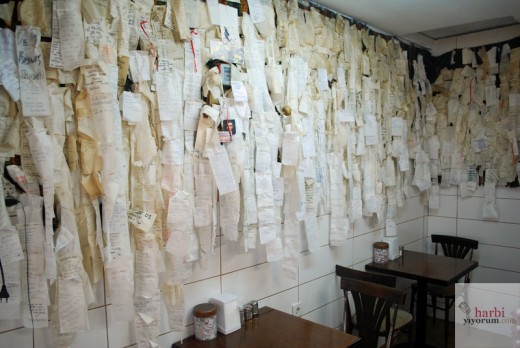 At the famous Menemen place, inner decoration is quite fascinating. Fairly, it is like there is always Hıdrellez. Napkins are hanging on the wall with wishes on them make you feel the fest. Dont be afraid! Dont get surprised when you see the notes left by soldiers who count the days. Finally, this is a cheap and strong protein restaurant and common place of soldiers who go out for their day off. And the Menemen is also very successful.
Now we think, if they put garlic and onion in this Menemen it would be much better, 5 times better, undoubtfully it would be smacking.
The next time when we go there, we are going to tell them this. Otherwise we will bring the ingredients with us.
Harbiyiyorum kisses all menemen lovers from their eyes!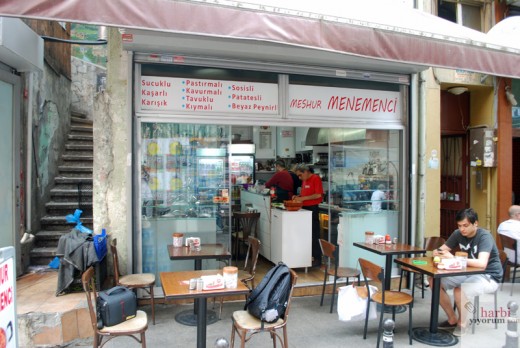 Meşhur Menemenci
Osmanağa Mah. Pavlonya Sok. No:16/A Kadıköy – İstanbul
Tel: 0216 3366308

Click here to see the adress on the map!