The Best Marinated Lamb Chopsticks to Eat in Urfa: Tarihi Kahraman Urfa, Hacı Hanifogullari Pirzola and Kebap Salonu, Urfa
Now let us mention you about the city where people ornament their motorbikes like people used to ornament their horses: Urfa. So, the point is not just about cooking kebap and liver as they are. These people know how to decorate the meat. How? Let's have look at Tarihi Kahraman Urfa, Hacı Hanifoğulları Pirzola and Kebap Salonu (Please do focus on the name!) Our dear Mustafa Bağmancı Usta first adds sauce to the chopsticks and then grills them.
We always say, the best thing to the in the places where everybody does the same thing is to create your own category. Hacı Hanifoğulları does the same thing exactly. It is a good decision, for as much the food chain at Urfa which always goes on like liver, kebap, çiğ köfte, liver, kebap, çiğ köfte, şıllık tatlısı was broken. Moreover they -Hacı Hanifoğulları- broke this hierarchy 80 years ago, there is nothing else to say! The place was founded in 1937. It is not easy to say, it is peer to our deceased grandma. (Don't forget to say hello to your grandma)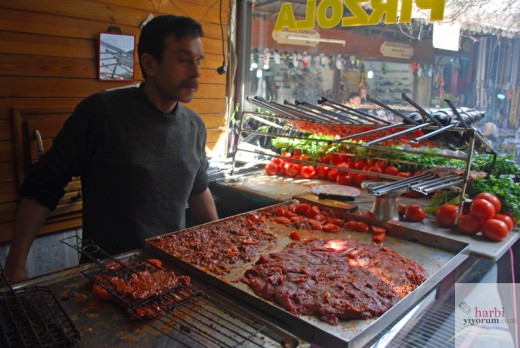 You see the pinkish colored chopsticks at the entrance of the restaurant. They are fleshy, unboned and nonfat chopsticks. So, it is better to say "steak" instead of chopsticks. As soon as you have a contact with these tomatoes sauce marinated babies, you start to feel a desire for them. Like Nuri Alço felled jizz in his heart when he sees the girls.
This marinated steak is not the only meal of Hacı Hanifoğulları but it is the special. You can help your self saying something like "OMG, come on! What the heck!" when the meat goes to grill. Remember though. They make you say "Oh la la" even when they are raw.
After grill is done, it is served with onion and similar food, as Urfa style, on the authentic service tables.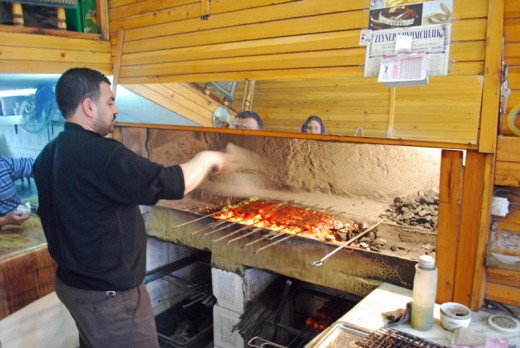 If you ask us, even though tomatoes sauce assimilates the real taste of meat, you find out eating a tomatoes sauce marinated steak at Hacı Hanifoğulları, you can understand what you eat more or less. Of course, it may not make everyone happy. However, if your way happens to pass through Urfa, stop by absolutely, as it is legendary here.
For example, you can do like us. Go up to mezzanine and enjoy your marinated grilled meat with your ayran in a copperware cup. As soon as you get out of place, eat Bedih Usta's Maraş style honey ice-cream from the shop just right near so that do a favor for both your stomach and the sake of Urfa.
And then, go to the bazaar, stores, try to understand woman who are scarfed in purple.
(Be careful! The colour and the symbols of the scarf represents a different klan, don't try to understand or they'll kill you)
Say hello to Urfa, keep eating ciğer (liver shish) or die trying!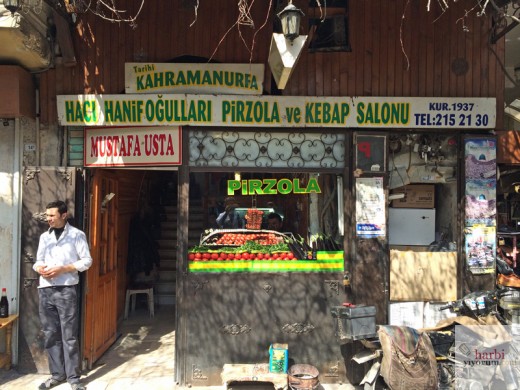 Tarihi Kahraman Urfa Hacı Hanif Oğulları Pirzola ve Kebap Salonu
Haşimiye Meydanı, Köroğlu Çarşısı No:11 Şanlıurfa
Tel: 0414 215 2130

Click here to see the address on the map.