Where to Drink Menengiç Coffee in Gaziantep? Historical Tahmis Coffee House, Gaziantep, Turkey
"Menengiç Coffee" is a 'cure-all' my friends. It is prepared by roasting the terebinth berry pits growing on Menengiç tree just like coffee beans and making it in the style of Turkish coffee after grinding it.
People who know us would be familiar with it. The whole of our Gaziantep series goes like the ultimate eating experience. But if you are in Antep, you would desire a place to take a breath from all the eating. And Tahmis Coffee winks at you right across "Gaziantep Bakırcılar Çarşısı" (Coppersmith Bazaar) in dignity with its high ceilinged historical wooden architecture offering water pipe, tea and coffee. You would like to experience yourself in such a place which has been the witness of hundreds of stories since 1635 and which is one of the oldest coffee houses of Turkey.
Tahmis Coffee House is an old and wise place.
In short, it is impossible not to be impressed by the atmosphere in this place my friends. Especially, if you go in winter, you would be enchanted by the kitchen stove right in the middle and the sound of the wood burning; believe me you are going to have the most beautiful and most meaningful coffee experience of your life here. (Note: If you are living one of your bad days and if you are snappish in general, it wouldn't work on you). Besides, you would have a spiritual relaxation in Tahmis Coffee House isolated from the wild food life going on outside, waiting for you. This is the oasis of Gaziantep.
If you are not a local and you have women with you in the group, they will invite you to the upper floor. Ground floor is where the big shots are. These guys smoke water pipes in general. Do as we did and go on upstairs and order Menengiç Coffee for each alongside water pipe.
Now, let's talk about Menengiç Coffee's taste and its benefits. It is a little rich due to the fatty nature of the beads. There is a little bit of milk inside it. It has an easy and balanced taste. It is calmer compared to Turkish coffee. Not bitter and doesn't have a heavy ending. It contains high amount of vitamin E and unsaturated fatty acids. So, it is cholesterol lowering and helps to prevent cardiovascular arteriosclerosis. (You will be needing this in Antep). In addition, it is a cure-all for stomach, kidney, vocal cords, coughing and many other problems. And the fat obtained from this terebinth tree is used to make "Bıttım Soap". Look at this! What a blessed tree!
If you are lucky, you would run into Turkish Art Music performance in this historical coffee house. Then, you won't ever get enough of Tahmis Coffee House. Brothers from Antep would clean the rust in your ear with the most beautiful tunes. And if you are a bit emotional like us, this would give you the willies. While you finish your coffee and go on with your water pipe, the vibrating strings of violin and oud would make the vital strings in your heart vibrate as well. Then you would call the waiter and say; "Shot me a zahter!?" Your zahters would come. So what is zahter? The answer you will get from the waiter is very simple? "Zahter is a kind of beverage!"
Yes, "Zahter" is a beverage at Tahmis Coffee House. Actually, Zahter is the Arabic name of a different kind of thyme specific to Eastern Mediterranean. Continue your pleasurable hours here with Zahter so that you can be one of the healed people.
You see, Tahmis Coffee House is such a delightful place. Don't forget to choke down some of the "chitchits" on your table as well. This is a kind of dried fruit that you cannot find anywhere else that easily.
I beg your pardon but if you go to Gaziantep and don't stop by at Tahmis Coffee House, you would be missing a lot. Eat plentiful at Gaziantep for us as well. And experience coffee shop culture of our country in its most refined shape here.
Our country is so beautiful guys! Let's enjoy it please! Harbiyiyorum greets all the great people of Tahmis.
And you should take the trouble and listen to this ballad in the meanwhile.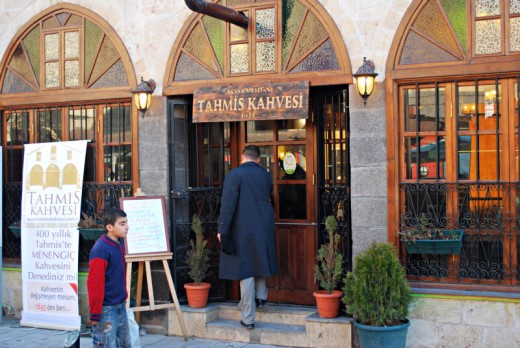 Historical Tahmis Coffee House
Arasa Square Elmacı Pazarı Neighbourhood Şahinbey – Gaziantep
Tel: 0342 2328977

 Click here to see the adress on the map!