Where to Eat Kebab in Mardin? Kebapçı Rıdo, Merkez, Mardin, Turkey
Folks, this time we are in Mardin, which is under protection of Unesco. Settled houses falling from the slopes of the mountain are not disturbing the silhouette of natural formation. All constructs have the same colours of the hill. They don't differentiate. This is an enchanted place. But of course, we are only interested in the culture of food. Our plane arrived at Mardin Airport early in the morning and we directly moved our asses to Kebapçı Rıdo.
God exists! And he is the witness. We ate very nice kebabs till today. Here at Rıdo's Kebab Restaurant, we ate one of the best kebab of all times. As they say; "God Dammit Shabby! Yes, yes, I cannot tell you how shabby it is! But -yeah but- you lick your fingers!" Yeap! Rıdo's kebabs are exactly those kinds of things. They make you lick your fingers for good.
We got there early, so even, kebabs were not lined up to skewers. Hand minced and marinated meats were stacked in a corner near the window. You could able to see them in their colors -normal and spicy.
When the time hits 11:00 am, fire was flared up and we took our place as the first customers of Rıdo. We were proud as kids.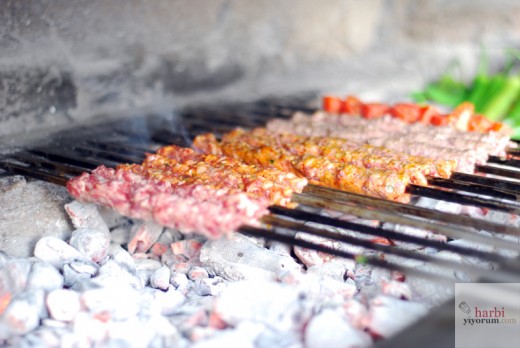 There are two most consumed variety of kebabs in Rido. Spicy kebab and Normal kebab. That's it! We ordered both of them. But, please listen to our advice, spicy kebab's fragrance excavated our brains out! We did not ask the reason for this. In Rıdo, "spicy" is not spicy as we -and you should probably- used to know.  It is named as the name of a new flavor. If you go, try both of them. You'll understand what we are talking about.
We learned:  In general, our meat kebab was prepared as a mixture of lamb and veal. Animals are from Mardin district… (Not from Balıkesir) Organic! Anyhow, just get a tour in the old city bazaar; you will have the opportunity to examine the animals of the district. They are all presented in a very creative way.  And also, you will understand "How an Organic Presentation Should Be Like?" Who knows, maybe you'll find your inner self huh? Surprise, surprise! (We really want to see your faces when you experience this, please share your pics with us)
If you're looking for organic food, of course it should have some costs. If you are one of those who say "We want hygiene, but also we want integrated ISO stamped facilities. And wait a minute it's still not enough, we also want them organic!" Then we will reply you with "Sorry but all those three are only get together in the advertisements"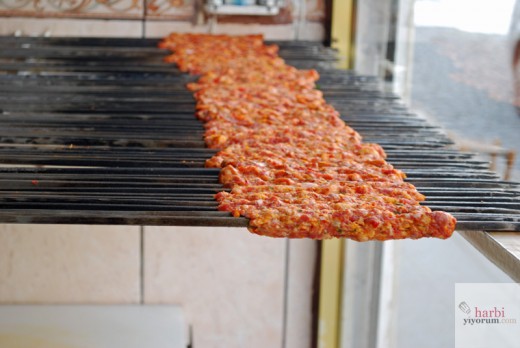 Relax! Leave your body out of the restaurant. Deliver your soul to Rıdo. Let your kebab with roasted peppers and onions firmly ended with the perfect "lavas"as an appetite to your stomach. Thank your God because of reaching here and having your stomach filled. This is a mortal world and maybe you'll never have the chance to come back here again. Listen, Rıdo is a kebab restaurant of Mardin for over one hundred years! Mehmet Bey, the son of Rıdo. Tarkan, Şehmuz and Bedi continue to cook kebabs along with the whole family. In Yenişehir, (Mardin) they have a branch right next to the Teacher's House, too.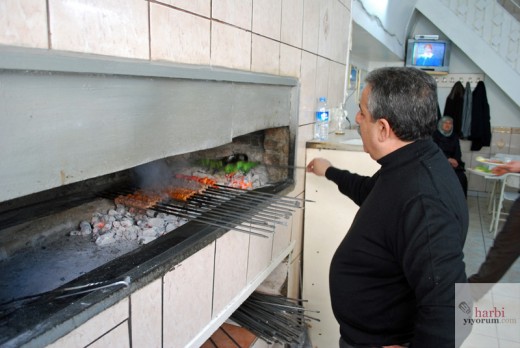 Yes folks! "How do you only make the same kebab for over 100 years?" This is the question. We never understood this kind of persistence and patience! Extraordinary admirable situation… We get bored when we check our Facebook accounts for more than two minutes. This is a remarkable example. What shall we say? We are on our way to DeyrülZafaran Monastry (Mor Hananyo Monastery) in Mardin by thinking that we came to the end of another nice kebab in Rıdo.
But before there are other issues, we need to take care about the other food of Mardin. We are experiencing the following dialogue between us while we fade away in the enchanted streets of Mardin. Our mission was clear! "There are many other gastronomic places to conquer!"
"Let's have a smuggled tea?!"
"Of course… Such onioned kebabs should benefit from a good tea's company. But first shall we take a Sembusek?"
"No, I'm not going to take it. Merci…"
"Kibe??"
"Let's have something more light."
"OK"
Lighter things are in our next article… Brace yourself!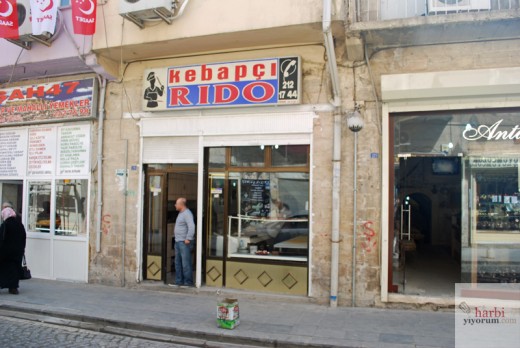 Kebapçı Rıdo
Cumhuriyet Caddesi, Merkez, Mardin
Tel: +90 482 2129815

Click here to see the address on map!