Where to Eat Liver Shish at Urfa? Ciğerci Aziz Usta, Şanlıurfa
First click this! Thank you.
We have endless respect to vegan, vegetarian but light foods and snacks were not the main themes of tables in these lands. Never happened. How could it be? We are talking about a society that hunter-collector and nomadic genes are coming from its ancestors. It's not an easy thing. Come on!

That's why, like people of Gaziantep's habit that eating "Roasted Liver" for breakfast, people of Urfa would like to eat liver shish as Turkish delight (as consistency it is the true meaning of delight). Obviously, we have tasted one of the most delicious sheep livers shish in the earth at Ciğerci Aziz Usta. (Oh I wish, if it's in İstanbul! Just think, for example, same concept is in Baghdad Street and Nisantasi as "chain store". Haha…)
In the early hours of the morning, for the mortal eaters who are looking for Ciğerci with their bags-that's us-, the most motivating thing is of course the other eaters like us. Thanks to them, they directly showed the place of Ciğerci Aziz Usta.
When we went, time was 11:00 am and we had missed the breakfast. You know, uncles of Urfa come to this place at 4:30 am, let their livers as an appetite to their stomach, and then they go to their works. Nevertheless, liver shish doesn't end, so don't be afraid. Only, you cannot reach the best of the event. I mean, you are missing the ambience of eating-drinking with those uncles in the early morning.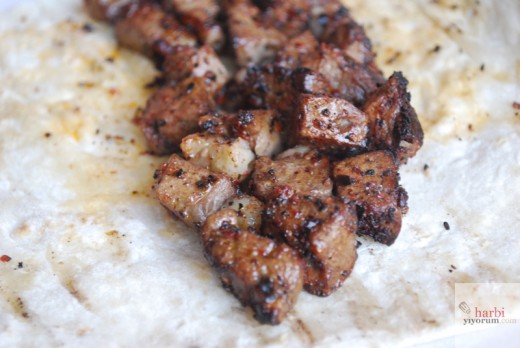 The place of Ciğerci Aziz Usta which is in The Grand Bazaar has semi-cave-looking and all tables and shish benches are outside. Aziz Usta who cooks liver in the same place since 1968 received his talent from his father, Eyüp Usta. But you should taste yourself! Those livers are delicious! They are awesome! They are marvellous! Words can't explain it. We asked and learned. Livers were sheep livers. Wunderbar! He had also calf livers but they dont taste as sheep's livers.
"Hmm, so that's why these livers are so different!" we said. Though master pointed with his finger isot -red pepper flakes- which is on the table. We pride ourselves as we are folk gourmet for forty years; we knew that isot is one of the varieties of chili pepper flakes. However, it is a flavor efficient.
When you find the right isot and add it to your meal, you can see the difference. Of course, you can perform this only in Urfa properly.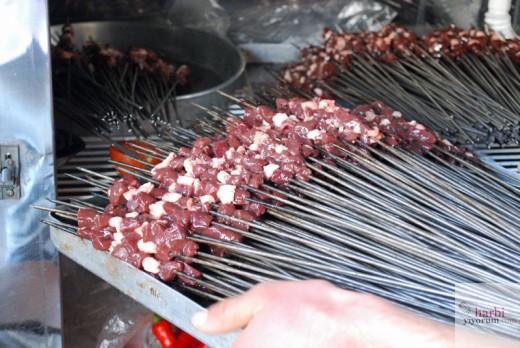 At Aziz Usta, all tables are marble and seats seem like ablution stools. There are baskets on the tables. And inside of them there are onion, roasted peppers salt and isot. You are preparing onions for your lavas by cutting (knives with wooden handle are so authentic) them yourself on the tiny pink worktable which was placed in front of everyone. So you would be not only the eater but also the participant of this concept. (Harbiyiyorum Ultra Gourmet Note: If you wish, after you have extracted roasted peppers, slice onion very thin and then make a nice sauce for yourself with isot,  salt and a little lemon…)
Now there is an issue. We are reading here and there. In Urfa, some of the people who live in metropoles are looking for hygiene, they sway these kind of places are a wreck. But, my dear friend, go away please. Why the heck you arrived at Urfa? You have to be a little foolhardy. Even strangers call it as "Experience – Deneyim". And also, they pay money for that. Some things are experience. As you know how, everything not has to be in the standards of ISO2000BlaBla. You have to accept the life, yourself and the environment around you. I beg you please read some kind of personal development books before you go there. Read Eshoteric Psychology or read anything you want. Just, don't be silly!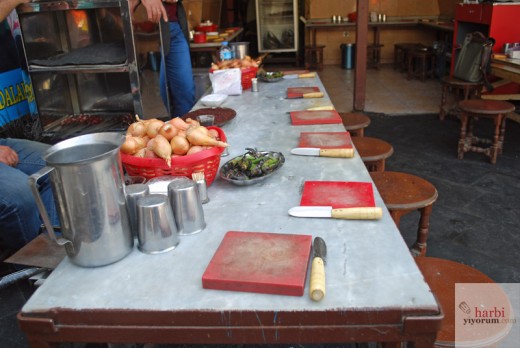 Anyway, we ate 10 serving of those livers. When you eat more, you want to eat more. (Kidding, kidding! But we would like to eat 10 and still we want to.) Go and eat those livers! Listen to your heart's desires! Say hello to Aziz Usta and the blessed people of Urfa. As you know, life is beautiful by eating meal.
(*Below, you can watch the video of Ciğerci Aziz Usta through our YouTube channel.)

Here are the lyrics of the song in the beginning of this writing;
"Don't roam gazelle in these mountains; they may hunt you, they put you separate you from your parents, your lover"
And, we are saying you that; "Don't be the victim, be a hunter!"
Now, if you are ready, we want to add our ending music to this meal concept. Come, here you go.
Enjoy your meal.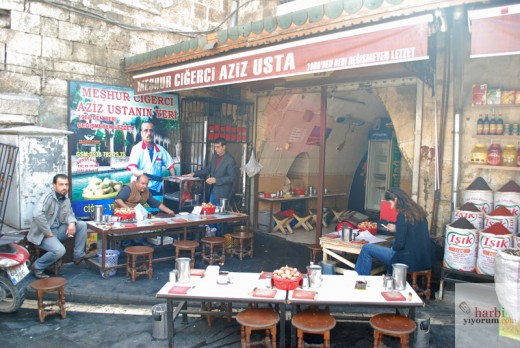 Meşhur Ciğerci Aziz Usta
Balıklıgöl Caddesi, Su Çıkmazları. No:2/D Şanlıurfa
Tel: 414 2166886

Click here to see the address on the map!