Where to Eat Village Breakfast at Dalyan? Dipdağ Ekin Apart Restaurant ve Cafe, Ortaca, Muğla
We all have good times in our life. And also there are outstanding times. The breakfast we had during our vacation at Ekin Restaurant in Dalyan, which is at the foot of the mountain and near the lake, has been one of the places which have carried us to the most outstanding times.
How don't you go with it? After we had had our breakfast at one of the most wonderful places we could find on the way of Iztuzu Beach that we went through the beach by a scooter. Better than this is an apricot in Damascus they say!
Well, dears, we had written where to have pomagranate juice on this way beforehand. Now, let us advise you where to have your breakfast after you have your drink: Ekin Restaurant.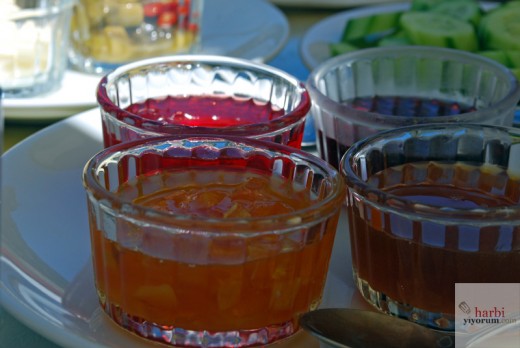 First of all, the best thing about this place is its wonderful soul fulfilling view and nature. And then, the elating foods -not with its varieties but with its quality-. In addition to these you can feed the fish on the lake next to you. They are not piranhas but they eat whatever you throw away to them.
Colourful jams, white cheese, olives, cucumber, tomatoes and delicious butter are the beauties which are going to make you mad! Well, now tell me what is absent in this picture? Let's say all together…
"Hot bread (toast) is absent!"
Yes. Of course we can't imagine these foods without toast. Dear friends, toast is the most important and supplementary part of a Turkish breakfast. We even don't count a breakfast as breakfast without toast. Because, it doesn't have the thing called "breakfast fragrance".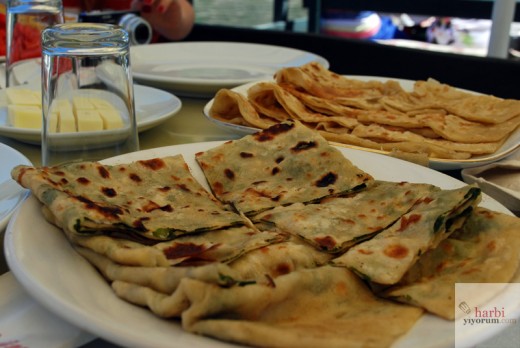 Frankly, we always belong to those who says "breakfast" to the less but not the least! However, there are a lot of talented people in our country so our tables have never seen less varieties. For example there were sigara böreği. We don't know how old is cigarette but the most beautiful thing can be named as cigarette is in Turkey and it can not be just a coincidence. Right?
Oh, do you know how go well sigara böreği and çay together? If the cheese inside is light and salty, it makes you stuck the place you sit. Really! Hey ladies! Don't make it only with lor cheese please, sometimes try to do it with white cheese also. (Thanks)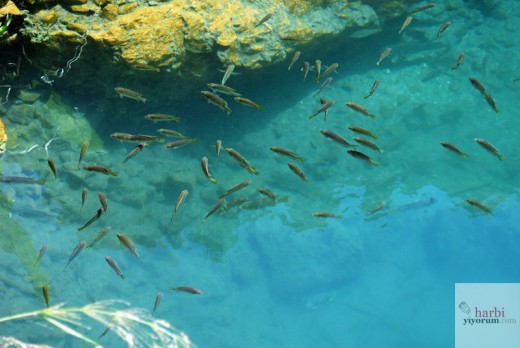 Oops we did it again and changed the subject! Anyway folks, after this humle breakfast at Ekin Restaurant & Cafe, they served gözleme. God bless sisters who make them on the tinplate.
The more we ate, the more we wanted to eat. A good Gözleme with butter makes someone a tiger, even bewilder, I swear. Moreover if you are in the nature, you never get full enough.
Ekin is a place where you must absolutely stop for a break if you go to Dalyan. If you go there in the evening, that time the owners meet you with grill. Moreover if you make an eye contact to them they may invite you to their own dinner table. But it is better to go there during daytime to see the paradise on earth!
Oh, one more thing. Don't forget to pray for having these moments.
See you later folks!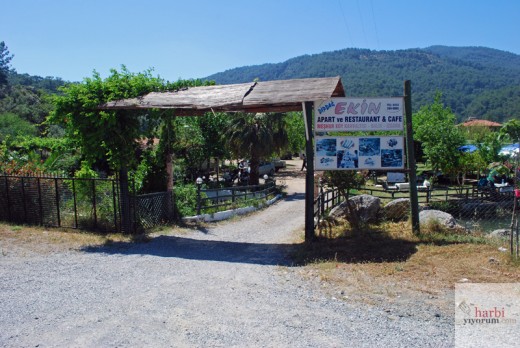 Dipdağ Ekin Apart, Restaurant ve Cafe
Adress: İztuzu Plajı Yolu, Dalyan, Ortaca, Muğla
Tel: 0252 2890005

Click here to see the address on map!