Where to Have Hot Chocolate in Paris, Angelina La Maison, Paris, France
Of course we had hot chocolate before we went to France. But "the brain would have been the prisoner of what it knows" our experience was like that. Previous ones were just like a trial, they were simple drinks as if nesquick! We had decided to have a break at Angelina like all the people trying to understand Parisian life before our Louvre visit.
Museum quality pictures on the walls, the style of the entrance, colourful macarons/cakes inside, and waiters like film characters with soldier uniforms -word of " waiter" comes from French. It means; boy,like servant. Let's think about it. Merci- etc. made us think "Come on what the hell is happening here!" Then we went into a depression.
You got it. We could handle with the culture shock when we got inside only by drinking hot chocolate. Because Angelina La Maison is famous for its fondues and of course hot chocolate dear readers.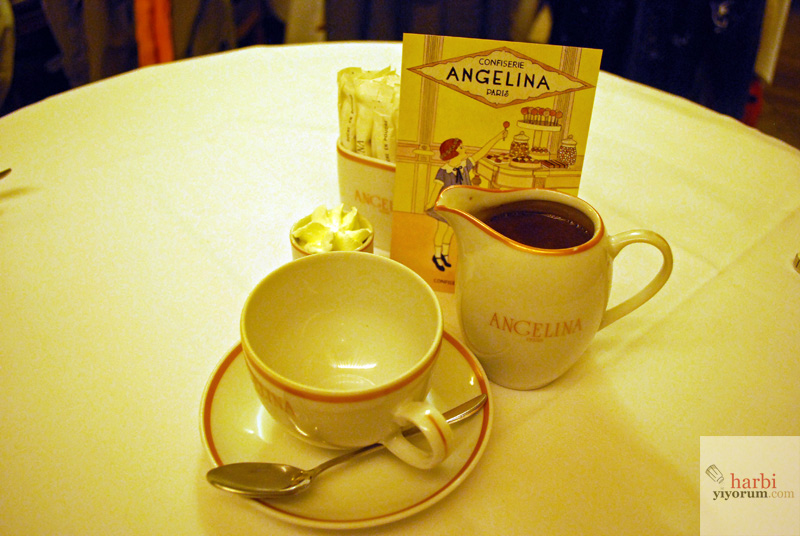 The place's color is tones of yellow and red, quite gloomy but a lot lovely! It has all sincere qualifications for having a real parisian cafe experiment. Some of our careful readers have already understood, I guess, we left all yellow from the Photos we took. So we want you see what and how we consume in what circumtances without censor. We are against censor, dammit!
Don't forget this while imagining the view. Inside the place is wooden and gloomy. An ideal place for nostalgia and melancholy. And, Let's add chocolate smell into it, you have a memory that you can remember even after you die. You should also count smell of chocolate, oh my Goodness, this is heaven!
Angelina has an important place in Paris history. I don't know you know or not. A country's history has an importance with the country's places and the people who visited those places. Once upon a time Coco Chanel, Proust, famous fashion designers of French aristocracy and so many important people were goers of this place. For example; we have been there as important people of Turkish cuisine sociallite and wrote our names with golden letters to the history. Thanks!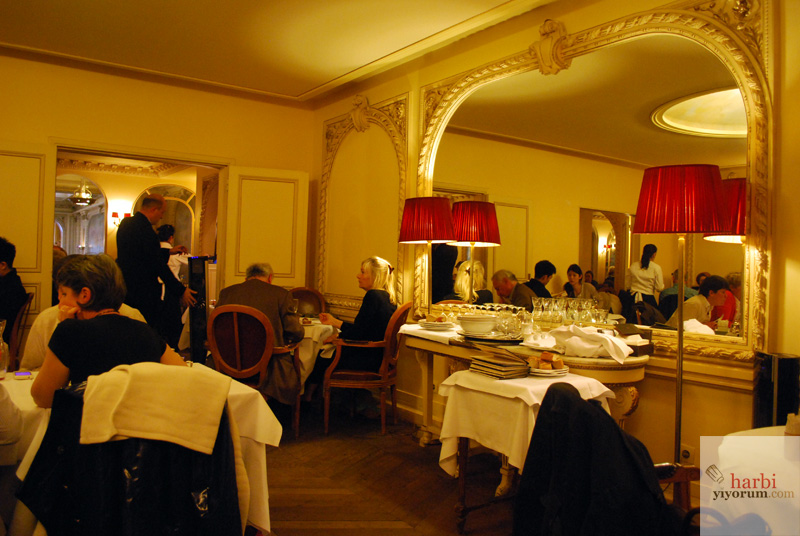 Let's go back to the hot chocolate! "Is it possible to have such a rich fragrance?" we asked to ourselves. We had a fabulous chocolate. No one can serve hot chocolate in a simple way. They poured it from a jug and they served crema with it as topping.
Dear citizens! (Oh sorry, sometimes I am influenced too) There is also a cake called Mont Blanc, it is incredible. They sell 600 pieces everyday. If they sell 1000 cups of hot chocolate, 1000 times 8 euros, oh come on, don't do that! Not bribery, it is effort, great effort really!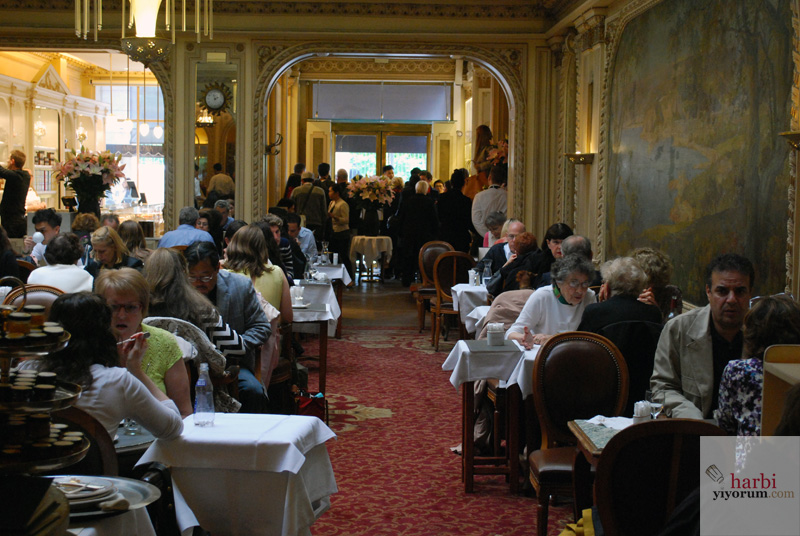 Anyway, France is a country with full of culture and art. Having ambient at Angelina La Maison, go across the road and visit Louvre.
We advise this place to  all gourmets, food lovers, travellers ,good eaters anyone who come to Paris. Don't come back without visiting Angelina.
As our ancestor Montaigne says "Things we consume with cheer, are easier to digest."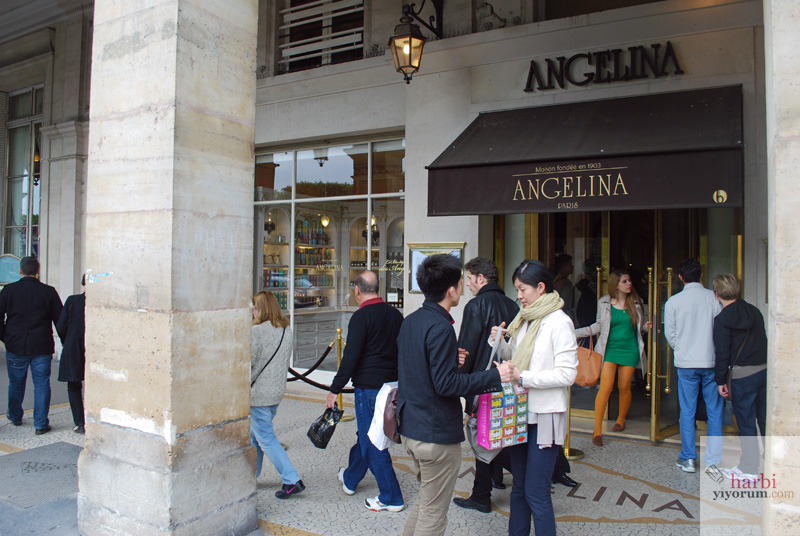 Angelina
226 rue de Rivoli – Paris 1 France
Tel: +33 (0)1.42.60.82.00

 Please click here to see the address on map.