Where to Eat Kusleme in Gaziantep? Kebapci Halil Usta, Karsiyaka, Gaziantep, Turkey
Some call it "küşneme", some others "küşleme". We call it "küşleme"– *Pronounced as: Khuslahma-. And what is this küşleme? It is the best of meat. Not sinewy at all. It is refined mutton. Boneless meat. Amazing. Like a delight. Only two pieces can be obtained from mutton's backbone. Küşleme can be compared to caviar in sea food when it comes to meat dishes. Crème de la crème. It would make you weep. I wept. That's how good it is.
And when this little fellow is prepared on the barbecue, it becomes tear inducing for gourmets. Moreover, prepare yourself for a happy death if you are eating küşleme at the famous Halil Usta of Gaziantep!
You see, the story goes like the following. We arrived to Gaziantep, our city with a proud history, second time after exactly two and a half years later. How happy are we whose reason of visit was food of course. Our first Gaziantep trip which was the reason for us to start to write on Harbiyiyorum.com and  "The Series of Gaziantep" had been left uncompleted. When it comes to Gaziantep, it is not possible to cover everything with a few articles since the city has as much of a gastronomy history as its history of heroic deeds. We understood this fact on our second trip. We hope we can have the chance of a third trip.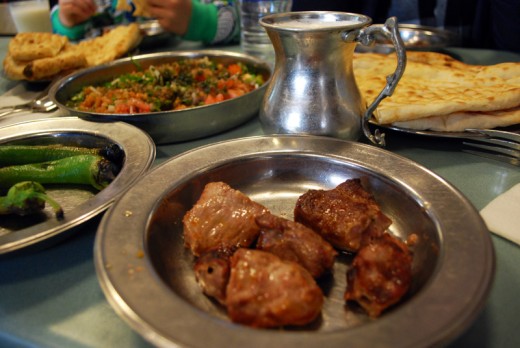 Let's talk about "Halil Usta". Halil Kör, who is famous with his küşleme, has a place in Karşıyaka which is a neighborhood in Gaziantep. He is standing behind the counter himself with his white apron. He, probably, wanted to watch over the point where fame meets money. It is an important point indeed. If you have obtained fame and are a man of trade, it is best to keep the cash. Halil Usta's own chefs who have been trained by Halil Usta himself are standing by the fire. The restaurant/shop has a horizontal depth although this cannot be perceived from outside.
Speaking of depth, Halil Usta serves his kebabs in copper and hollow pots. And how happy are we second time since by chance, we have made the food tour in Antep together with Löplöpçüler, one of our dear gourmet friends. We went to Halil Usta together. We ordered various kebabs. Kebab with vegetables, "simit" kebab and küşleme. All the kebabs are amazing but I am a man of küşleme dude! "Simit" kebab, on the other hand, is a bit like "Falafel". Besides, the best meat to eat in Antep is mutton.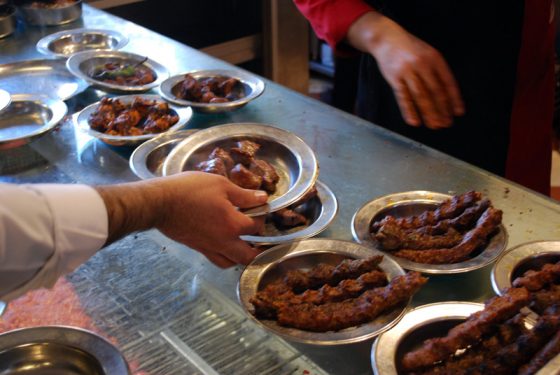 Now, at this point, we had better to mention chefs from Gaziantep. They all are committed to their jobs in a weird way. They like feeding people. Additionally, they are all brands. They attach a big importance on cooking and they are competent in service. They wouldn't cook a dish that won't get compliments. If you know about food, they would be devastated if you don't like their food. And this enables them to keep the bar high.
From the visit we paid to Gaziantep with the aim of going to Halil Usta since we had skipped him before, we returned with a new body of works. Conclusion: We love Gaziantep a lot. You know how every year another city becomes capital in a certain subject in Europe using the remaining funds… we wish Antep to be the capital if they ever get into some kind of "Food Capital" business so that Europe and USA can see some real kebabs. So may the true path be found!
Amen!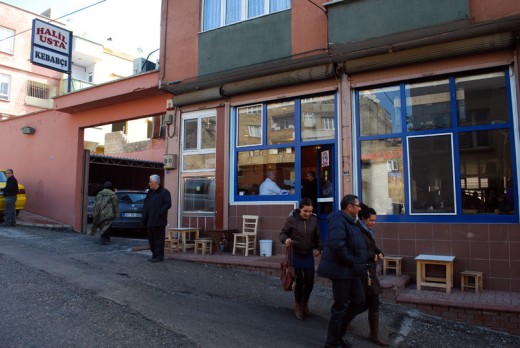 Kebapçı Halil Usta
Karşıyaka Tekel Road. Öcükoğlu Street. No:6 Şehitkamil – Gaziantep
Tel: +90342 3231616

Click here to see the adress on the map!